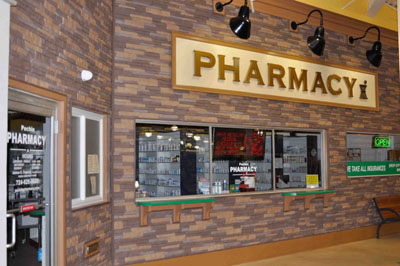 Located Inside Pechin Supermarket.
Our Hours
Please come in and see us during the following hours:

Open Monday through Friday

9:00 a.m. - 6:00 p.m.
Saturday

9:00 a.m. - 2:00 p.m.
Sunday - Closed
Address: 309 Laurel Drive
Laurel Mall
Connellsville, PA 15425
Telephone: (724) 626 - 9600
FAX: (724) 626 - 9901
E-mail: pharmacist@pechinpharmacy.com
Pechin Pharmacy. Connellsville Area. Uniontown. PA. We Deliver!
Visit the Pharmacy while you Grocery Shop! Or Visit our E-Pharmacy from Home.
Refill your prescription from your computer 24 Hours a day - 7 days a week.
All you need is your prescription numbers.
Online refills will be ready when you want.
Register an account to get started. Just log-in at the top when you are registered.
REGISTER
register online with us and authenticate your pharmacy refill account. register now »
REVIEW
review your prescriptions, research drug information and see how long your prescriptions are valid for.
REFILL
send in your request online. save time and have your prescriptions ready when you arrive.
SECURE
All your prescription and profile information is delivered through security standard 128bit encryption.